Receiving with thanksgiving.
Thanksgiving the holiday may be over....
but the thanksgiving continues here....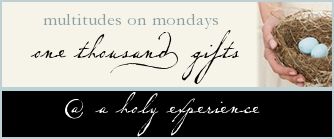 1109. Warm, windy mornings that carried me to work.
1110. A flowering Christmas cactus.
1111. A Thanksgiving feast shared with friends and family.



1112. Gathering around tables playing games. Loved playing the new to me game of "Headbands".





1113. Black Friday shopping with Anna, Jenny, Lindsay & Hannah.

1114. Spending time with Clint, my sister and my dad.

1115. A phone call to say Happy Thanksgiving to my mom and brother.

1116. An event free day at work on Friday.

1117. Decorating for a retirement on the sly at our office.

1118. Lots of pregnant cows for the Murdock's.




1119. Walking into a kitchen and pantry that had everything!

1120. Sleeping in.

1121. Lunch at the sale barn.

1122. A nice trip to Tri-Cities with Clint.

1123. Christmas wreaths decorated on the cheap!

1124. Two fabulous friends who drove all the way from Albany (after driving from Palm Springs) to deliver Clint & I a BEAUTIFUL Christmas tree. Thank you again Dave & Betsy!

1125. A 9:13 pm Christmas tree drop off at Space Age.

1126. A small, leather bound book pressed into my hand before she headed back to Albany.

Today's devotion from that book:

"...The best response to this glorious gift is a life steeped in thankfulness. Every time you thank Me, you acknowledge that I am your Lord and Provider. This is the proper stance for a child of God: receiving with thanksgiving. Bring Me the sacrifice of gratitude, and watch to see how much I bless you."

- Jesus Calling by Sarah Young