Joy found.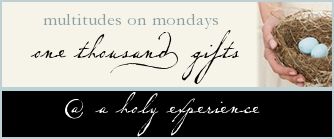 April 3 - 9, 2012


8. Cupcakes & a new fruit dip recipe to try.
9. Laughter and sharing.
10. Patience.
11.
Sharing new opportunities and knowledge
.
12. Telling stories over lunch at Fuddrucker's.
13. Shippers shipped, and a house cleaned.
14. The stress release that comes with sharing an evening of Bunco with 11 other ladies.
15. Reassuring phone calls from fellow employees.
16. Two boys that were so well behaved - all day long.
17. Memorable one-liner's -
"If I lived here, I'd invite my whole 1st grade class over to play!"

"I bet those boys eat a lot!"

"Do you want to go to the zoo? You can even pet these animals?"
18. Two great days of time breeding at CRC.
19. Smoked ribs, pork loin roast and some of the best hospitality I've experienced.
20. Easter lunch with Clint & Lindsay.
21. Phone calls to family.
22. Hearing about Grandma planting her garden, Dad having a great time in Phoenix, and Mom enjoying a day of rest.
23. Starting in on our taxes after a long awaited 1099.
24. Bulbs buried.
25. Conversation with Clint, Jack & RJ over dinner at 9:00 in the evening.
26. Falling asleep surrounded by loving arms.